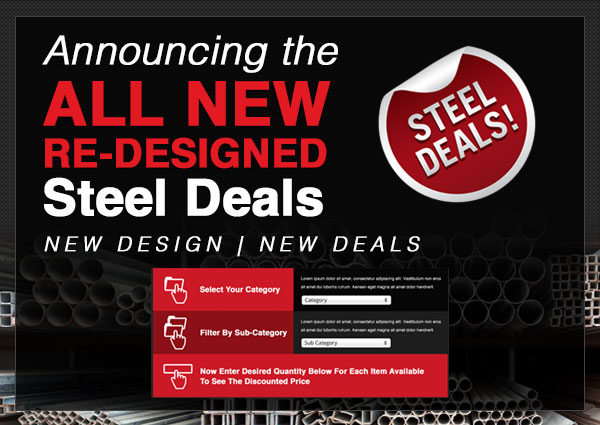 When we launched the original Steel Deals earlier this year we had one goal in mind: Provide our customers with access to all of the latest discount steel tubing products that Service Steel has to offer.Over the past several months we have listened to feedback and opinions from our customers and one thing became clear. We needed to redesign Steel Deals and provide our customers with a streamlined and simple way of browsing our discount steel tubing products.
The newly redesigned area of our website makes browsing our discount steel tubing products easier than ever. Simply choose a product category and sub-category. All of the available products matching your selections appear on the screen in sorted order.
In addition to making Steel Deals easy to use, we have also increased the level of value we bring to our customers by adding many new products and providing volume based discounts. Simply choose a larger amount of quantity needed for your desired product and instantly see your discount increase.
Browse our latest discount steel tubing products here.
We hope you enjoy visiting the new Steel Deals. If you have any questions, please contact us.