Thanks to tremendous strength, sturdiness, and the ability to resist corrosion, stainless steel is one of the most important materials in the modern world. While steel has been used for thousands of years stainless steel was not invented until 1913. Since then, the material has come to dominate the metal industry.
But there are numerous types of stainless steel. There are so many types, in fact, that they are divided into five main classes. Each class has its own grades and types; understanding the five classes of stainless steel is important for anyone who works in the metal industry or uses metal for their career.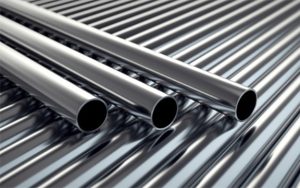 The Five Classes of Stainless Steel
Austenitic Stainless Steel
The most common class (and arguably the most important) is austenitic stainless steel. This group of stainless steel has a high amount of chromium and nickel, providing reliable corrosion resistance and excellent mechanical properties. Although they cannot be hardened with heat treatment, austenitic stainless steel is popular because it can be hardened with cold-working.
One of the main reasons that austenitic stainless steel is so popular is that it is one of the most weld-friendly stainless steels. It has a well-earned reputation for malleability combined with strength, which is why it's so popular for numerous applications.
This class of steel contains the 200 and 300 series. It's often divided, marketed, or sold in two sub-grades: low-carbon and high-carbon. Low-carbon steel (usually designated with an "L") contains carbon levels below 0.3%, while high-carbon ("H") has a carbon level between 0.4% and 1%.
Examples of Austenitic Stainless Steel
• 304: Type 304 is a popular option for making processing equipment for mild chemicals, food or dairy materials, and food-industry equipment. This material is considered one of the workhorses of the stainless steel industry, as it is used in countless applications.
• 316: This type of stainless steel is one of the best materials for corrosion resistance. It's made with large amounts of chromium, nickel, and molybdenum, all of which work together to create excellent corrosion resistance. Used in chemical processing, paper manufacturing, and the food and beverage industry, this type of metal is also extremely useful in marine applications.
Ferritic Stainless Steel
After austenitic, this metal is likely the most popular and commonly-used class of stainless steel. Ferritic stainless steel is made by adding alloy elements that include molybdenum, aluminum, or titanium; all of these metals come in addition to the chromium and nickel that are used to make austenitic material.
Of all the different classes, this one is best known for its ability to resist stress and avoid cracking. Like all stainless steel, it resists corrosion and oxidation, but its ability to remain strong under stress makes it ideal for the automotive industry, especially for exhaust, axles, shafts, and fasteners.
In general, they are not a good choice for welding. This is because they tend to have grain growth in the heat-affected zone. They also have relatively poor high-temperature strength, limiting their usefulness in many applications.
In the industry, these metals are often referred to as "straight-chromium steel," a term that is used to describe 405 and 409 types. These ferritic options are usually used when visual aesthetics is not important.
Examples of Ferritic Stainless Steel
• 409: This is one of the most affordable types of stainless steel, so it's used for almost any purpose where visual looks is not critical. It holds an attractive price because the metal uses a low amount of chromium. It's popular for interior and exterior automotive and appliance parts, including mufflers.
• 430: This ferritic metal has the unique ability to resist corrosion from nitric acids, sulfur gasses, and organic acids. Because of this trait, it has become one of the most useful metals in home appliances, including dishwasher liners, stove trim rings, and cabinet panels in fridges.
Martensitic Stainless Steel
One of the most important steel classes is martensitic. This material is used in many steel items you hold in your hand, and it's usually a top choice when products need good strength but are less concerned with corrosion.
Martensitic stainless steel is a chromium steel that usually does not use nickel. It is magnetic and has more carbon and less chromium than ferritic steels. Like ferritic steel, they also are found in the 400 series of stainless steel.
From a composition standpoint, one of the most notable differences of martensitic stainless steel is that it has a higher percentage of carbon. These metals tend to have carbon percentages of roughly 1%, which is higher than many other types.
These steels are magnetic and usually can be hardened with heat. They are fairly good at resisting corrosion, but are not the most corrosion-resistant metals available. Compared to austenitic and ferritic steel, they are less capable at fighting corrosion.
The uses for martensitic steel are numerous, but it tends to be used, depending on the type, for smaller items that you can hold in your hand. (This is a general statement; the metal can be used for more than handheld items.) In many cases, martensitic steel is used when corrosion is less of a concern. Cutlery, springs, and surgical instruments are commonly made with martensitic steel. Wrenches are often made with these types of metals as well. Other applications include heater parts and furnace components.
Examples of Martensitic Stainless Steel
• 410: This is a type of martensitic steel that uses a lower alloy percentage. It's a low-cost material that is heat treatable, making it useful for manufacturers of almost all varieties. It is called for when corrosion resistance is not needed, and it may be found in a variety of fasteners and parts.
• 431: With increased chromium, this metal has better corrosion resistance than other types. It's often used in valves and pumps, as it rusts less than other martensitic metals.
Duplex Stainless Steel
Essentially, duplex stainless steel is a combination of ferritic and austenitic steel. In fact, the basic chemical composition of this material, essentially, is an equal mixture of the two other types, creating a variety of useful properties for this class.
Duplex stainless steel excels in a variety of areas. It tends to have a higher strength and excellent mechanical properties, and can have up to twice the strength of ferritic steel. Yield strength, an important factor for manufacturing and structure, is also strong with this material. It is also extremely workable and can be machined with relative ease.
Above all, duplex stainless steel is considered one of the top materials for corrosion resistance.
Because of its strength and anti-corrosion properties, when utilized correctly this material is also a cost-effective resource. Essentially, less of the material can be used to meet structural needs, lowering overall costs.
This material is useful when chemicals need to be stored or transported. Pressure vessels, heat exchangers, and desalination plants all use duplex stainless steel. It can be used in marine and saltwater applications, construction, and the production of paper.
Examples of Duplex Stainless Steel
• 2205: This type is one of the best for high-pressure and corrosive environments. It has low thermal expansion and a high thermal conductivity compared to many of the most common stainless steels.
• 2507: Sometimes called a "super duplex" stainless steel, this type has exceptional strength and corrosion resistance. This is the type often chosen for equipment that will be exposed to saltwater.
Precipitation-Hardening Stainless Steel
These metals contain chromium and nickel, giving them many of the same qualities as martensitic and austenitic stainless steel. They have a high strength that is achieved through heat treatment. They also have corrosion-resistance qualities that compare closely to austenitic metals.
These metals are made with a variety of alloys that includes aluminum, copper, and titanium. The name comes from the manufacturing process, which involves the metal going through a solution, then being treated with heat. They are some of the most advanced, reliable, and complex types of steel, not only from a manufacturing-process standpoint but also from chemical composition.
Essentially, these metals provide a balance between martensitic and austenitic. They are stronger than martensitic stainless steel types, but have a level of corrosion resistance that matches austenitic metals.
These metals find much of their use in the aerospace industry, as well as nuclear and chemical applications. Certain kinds of construction can also be improved by using precipitation-hardening stainless steel.
Examples of Precipitation-Hardening Stainless Steel
• 17-4: This chromium-copper stainless steel is used in a variety of applications that require high strength with only a moderate need for corrosion resistance. It's can be heat treated but has temperature limits for how it can be used.
• 15-5: This is actually a variant of 17-4. It was designed to have more toughness than 17-4 and is often used when more corrosion resistance is needed.
Service and Steel: The Name Says it All!
Want more information on the five classes of stainless steel? Need help choosing the right material, size, or shape for your next project? Then contact Service Steel today!
Whether you are building a massive structure or manufacturing small parts, we'll provide the stainless steel tube, aluminum tube, and alloy tube you need for any project!