It's Been An Eventful 100 Years
Company Founding
The Service Steel Company, a steel tube, pipe, and bar service center, was organized in Detroit by Herbert B. Van Pelt and his son, Donald C. Van Pelt in 1920, and was headquartered at Rivard and Maple Streets tucked in between Eastern Market and Lafayette Park.
H.B. Van Pelt had been with the Columbia Steel & Shafting Co. and the Pittsburgh Shafting Co. for about 10 years, the last four years as vice president and sales manager of the latter. Upon retirement, he purchased the company's stock of seamless and welded tubing, which provided him with startup inventory for the new company.
Through the years, Service Steel has remained solid under the ownership and direction of the Van Pelt family – 100 years after its founding.
Detroit & Steel – A Solid History



Steel is valued for its strength and stability and can be found virtually everywhere.  From infrastructure, buildings, vehicles, and machines to tools, weapons, household appliances, medicine, and even art and design, steel is ubiquitous and trusted. In our homes and offices alone, we find steel products ranging from paper clips, scissors, cutlery, cookware, and sinks to heating and cooling equipment, stairways, plumbing, electronics. Steel in invaluable and vital. 
Throughout the years, steel and Service Steel have borne witness to the evolution and growth of our economy.
1920s
In 1920, Detroit was the 4th largest city in the United States with 993,078 residents and installed the first color-coded traffic signal in the country.
In 1927, construction began on Detroit City Airport and the Detroit Institute of Arts.
The following year, the Detroit Zoo opened, and the Fisher Building and Penobscot Building skyscrapers were erected.
In 1929, construction of the Ambassador Bridge linking Detroit and Windsor, Ontario, Canada was completed and the next year the Detroit-Windsor Tunnel was finished.
1930s
Detroit's electric streetcar systems peaked in size in 1930 with 30 lines stretching over 534 miles when the city's population burgeoned to 1,568,662. In 1935, the United Auto Workers labor union is founded.
1940s
In 1941, the Japanese bombed Pearl Harbor in Hawaii bringing the U.S. into World War II, which lasted until 1945. During this time, steel is in high demand for many purposes but especially for military use in tanks, helicopters, weapons, and more.
1950s
In 1950, Detroit's population reaches its height at 1.85 million. The City-County Building is constructed at Woodward and Jefferson in 1954.
1960s
Cobo Center opens in 1960 as one of the country's premier convention and exhibition centers, and hosts the North American International Auto Show for 50+ years.
1970s and beyond
Service Steel celebrates the 50th anniversary
of its opening.

The first phase of the Renaissance Center skyscraper complex opens on the city's riverfront in 1977. Four 39-story office towers surround a 73-story hotel – the world's tallest at the time. Two additional 21-story office towers opened in 1981.

In 1996, Michigan voters approve the operation of three casinos in Detroit: MGM Grand Detroit, Motor City Casino-Hotel, Greektown Casino-Hotel.

1999 sees the Detroit Tigers play their final game in the 87-year-old Tiger Stadium before moving into the new Comerica Park the following year.
21st Century

In 2002, the Detroit Lions begin play in the new, state-of-the-art Ford Field, returning to downtown Detroit after 27 years in the suburbs.

Businessman Dan Gilbert begins making a tremendous impact on the City of Detroit in 2010. After moving his company headquarters and 1,700 of its team members to downtown Detroit in August 2010, Gilbert and his Bedrock company began a massive revitalization plan purchasing and renovating countless buildings and historic structures in the city and leading an influx of residents and businesses back into the city.

Olympia Development of Michigan broke ground in 2014 for the nearly $1 billion Little Caesars Arena that opened September 5, 2017 as the new home of the Detroit Red Wings, Detroit Pistons, and various big name concerts and NCAA sports events.
In 2020, Service Steel celebrates 100 years in business servicing the needs of customers in a wide range of industries.

Looking Forward

Notable projects currently underway in the city include:
Former J. L. Hudson Company flagship store site redevelopment

Historic Michigan Central Station renovation in Corktown

Gordie Howe International Bridge construction

Wayne Country Criminal Justice Center construction

Monroe Blocks development between Campus Martius and Randolph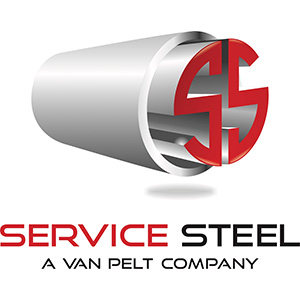 36155 MOUND RD.
STERLING HEIGHTS, MI 48310

Phone: (313) 365-3600
Fax: (313) 365-2828